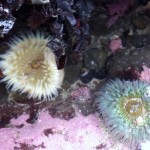 Fitzgerald Marine Reserve is one of a number of county parks included in  the San Mateo County Parks Draft Strategic Plan, now available for review at:
http://www.co.sanmateo.ca.us/Attachments/parks/Files/Parks Commission PDFs/2013 Documents/San Mateo County Parks Strategic Plan_Feb062013.pdf.
The Strategic Plan lays out a 5-year roadmap of the San Mateo Department of Public Works and Parks' goals and strategies.  On March 7, 2013 at 2:30 p.m., the San Mateo County Parks Commission and the Board of Supervisors' Parks Subcommittee will be holding a joint meeting to discuss the Draft Strategic Plan and receive public comments and input on it.
The meeting will be held at the Board of Supervisors Chambers, Hall of Justice, 400 County Center, Redwood City, CA 94063. If you are unable to attend this meeting you may submit comments via email to ParksCommission@smcgov.org by February 26, 2013.