Visit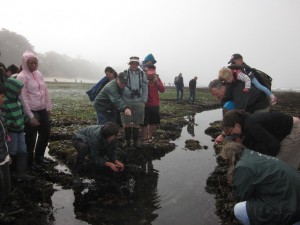 Fitzgerald Marine Reserve is located in Moss Beach, CA, about 40 minutes south of San Francisco on Highway 1, or 15 minutes north of the city of Half Moon Bay. Fitzgerald Marine Reserve is in a no-take Marine Protected Area; no collecting of organisms, shells, rocks, driftwood, etc. is permitted. Please do not bring buckets to the reef. Dogs are not allowed. The reserve opens at 8 a.m.; closing time varies seasonally and is posted.
Click here for driving directions.
The best time to visit the reserve is during a zero or negative low tide, when the rocks are exposed. See our Low Tides page for details. On weekends and holidays our friendly volunteer naturalists rove the tidepools to answer questions.
If your group has 10 or more people, you MUST make a reservation to visit the reserve.  First, view our list of low tides to choose an available tour time. Reservations for group tours are only available during specified low tides – refer to the lists to find available tour dates and times.