Fitzgerald Marine Reserve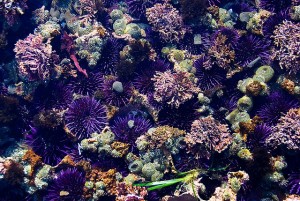 Fitzgerald Marine Reserve and its tide pools are part of a San Mateo County Park located in Moss Beach, CA, about 40 minutes south of San Francisco.
The Fitzgerald Marine Reserve tide pools are one of the most beautiful and easily accessible natural wonders of the Northern California coast.
Recently designated a Marine Protected Area, the rocky shore of the reserve becomes an outdoor classroom at low tide, allowing explorers of all ages to marvel at the diversity of marine life and learn more about protecting the ocean and its inhabitants. On any given day visitors may see sea urchins, sea stars, harbor seals, various mollusks, and even the elusive red octopus. Learn more about visiting Fitzgerald Marine Reserve.
Scenes from the Tide Pools
The tide pools and their creatures are cared for Parks staff. A non-profit organization called the Friends of Fitzgerald Marine Reserve (FFMR) trains volunteer naturalists who share their wealth of knowledge with students, teachers, and visitors.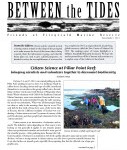 The FFMR newsletter, "Between the Tides", has a great collection of articles on the tide pools and other features of the Reserve.  Read the latest issue.
Become a Friend of the Tide Pools
The Friends of Fitzgerald Marine Reserve is a 501(c)3 nonprofit organization of volunteers who provide tours of Fitzgerald Marine Reserve's tide pools and other educational experiences related to the intertidal environment. Read more about our mission and history. Becoming a member by donating to the Friends of Fitzgerald Marine Reserve entitles you to receive the "Between the Tides" newsletter.
Our volunteer naturalists are trained to help young and old alike explore this incredible resource, learn about its inhabitants, and connect with nature. Learn more about our volunteer naturalist program.
Comments or Questions?
You can submit a comment on any article on this website, or send your questions and comments to one of our Contacts.