Low Tides
Planning Your Visit to the Tide Pools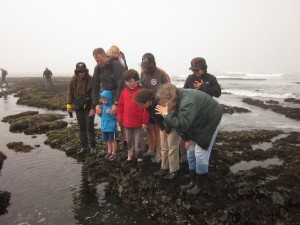 To get the most out of a visit to the tide pools, plan to come during a low tide.
Tide pool creatures can be most easily seen when the low tide is one foot (1′) or less in height.
What's the Tide Today?
Click the image or follow this link: Princeton/Half Moon Bay tide tables.
Low Tides at Fitzgerald Marine Reserve, by year:
The Friends of Fitzgerald Marine Reserve have compiled a list of low tides dates and times. These "tour dates" are the best times for a visit.
Group Reservations
If you are bringing a group of 10 or more, you must reserve a tour date. See the Reservations page for details, or click the "Group Reservations" button.
Volunteer docents will be on hand to accompany your group   If you are coming on your own during a low tide, docents may be on hand to answer your questions. Look for the volunteer docents' green jackets when you are on the reef.  As always, don't pick up or otherwise disturb the residents of the tide pools.