Become a Volunteer
Our volunteer naturalists lead tours of the intertidal environment, help with events, and interact with members of the public to bring the wonders of the reserve to life and foster a sense of stewardship. Our volunteers help the San Mateo County Department of Parks protect our rich and unique intertidal environment.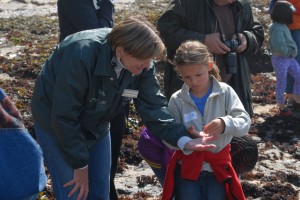 On weekdays, volunteers lead tours for school groups. On weekends and holidays, volunteers lead tours or interact with drop-in visitors.
Volunteers are required to volunteer a minimum of 6 hours per month during the busy season (January through June), and 4 hours per month July through December. Docents must be physically capable of navigating the rocks and reef and must be over 17 years old.
Our training class for becoming a volunteer naturalist covers marine biology, ecology, and interpretive strategies.  The 2013 classes are underway now, but information about the 2014 training classes will be available in September. Check back in September for the details on the 2014 training.  Click here to get more information.
If you missed the class but still want to help out, there are volunteer opportunities that do not require naturalist training. These include contributing photos and articles to our web site and running beach cleanups. Contact volunteer(at)fitzgeraldreserve.org for more information.